Less than 10 days ago was the International Summit of Co-operatives 2016 held in Quebec. The biennial event gathered 2,950 attendees from 116 countries. The EACB was present as partner of the Summit and organised the sectoral meeting on "The efficiency of the Co-operative Banking Model". The sectoral meeting was a real success with more than 300 attendees from all over the World !
Mr. Hofman, President of the EACB, answers a few questions and give his impressions on the importance of such an event.
President Hofmann, you have represented the EACB at the International Summit of Cooperatives in Quebec (10-13 October), what is your take-away on this event?
I have been impressed by the very high number of participants: 3.000 co-operative leaders coming from 116 countries around the world. It is the demonstration of an amazing power to act of our movement. We've heard several renowned speakers: J. Stiglitz , J. Rifkin or A. Kramer just to name a few, addressing co-operatives as important contributors to bring solutions to many societal and economic challenges that we are facing today.
"An economy that does not serve most of its citizens is a failed economy" to put it in Mr. Stiglitz words.
In particular due to their cooperative nature and values, cooperatives are in a position to commit to the Sustainable Development Goals for the benefits of members and the larger communities. More than ever, the cooperative business model seems to meet the new expectations of consumers, who demand that businesses are more socially and economically responsible. The Summit is a platform to promote and strengthen cooperative enterprises by fostering alliances, providing insights, and accelerating the growth of the cooperative model in an increasingly competitive and constantly changing economic and financial world. I would like to thank warmly the hosts: Monique Leroux for the International Cooperative Alliance and Guy Cormier, for Desjardins.
You have been a panellist in the sectoral meeting for banking and financial services: "The efficiency of the Co-operative Banks Model" organised by EACB: what have been the key messages emerged in the discussions?
I had the pleasure to be in the panel with colleagues from various European and non- EU countries: A. Fradin, of Crédit Mutuel, France; F. Taisch, Raiffeisen, Switzerland; K. Buchleitner, Raiffeisenlandesbank Niederösterreich-Wien AG, Austria and Y. Hayasaki, The Norinchukin Bank, Japan. Despite the geographical and organisational differences, one common message emerged: global rules are designed with one single model in mind: the joint stock model. The difficulty is therefore having to apply same regulation to a different business model. The risk is that by regulating everyone with same rule, diversity would be lost. Proportionality could be a tool to differentiate and modulate legislation, but in practice it is complex. This is why three actions have emerged as for the sector to take:
1/ we must communicate about our difference to regulators worldwide;
2/ we must connect to each other and cooperate at EU and International level if we really want to make an influence
3/ we shall promote diversity as value in itself (it is the case in all fields: why not in banking?). The work of academics is crucial to achieve this shift. We need researchers to analyse the impact of regulation on economy and society as a whole. Scientific analysis and data on the contribution of co-operative banks and their role as a pillar of diversity would allow policy makers to achieve a more comprehensive and fact based decision making
Indeed , in the second part of the sectoral meeting, devoted to academic research, the figures presented by renowned professors clearly showed the merit of diversity in banking and the solidity, performance and stabiling role of co-operatives when compared to the rest of the banking sector.
Finally, how do you see the future for co-operative banks?
I think it can be a very bright one, but everything depends on what we will make of it. Indeed we can shape the future of cooperatives and cooperative banks. We are not in a disruptive situation, but in a changing environment which requires lots of management attention and action, but it can be done. Strong of their values, identity and history and with their capacity to innovate, while keeping members and clients at the heart, co-operative banks will be able to adapt to the current regulatory and market challenges. They will continue being as successful if not more successful than in the past!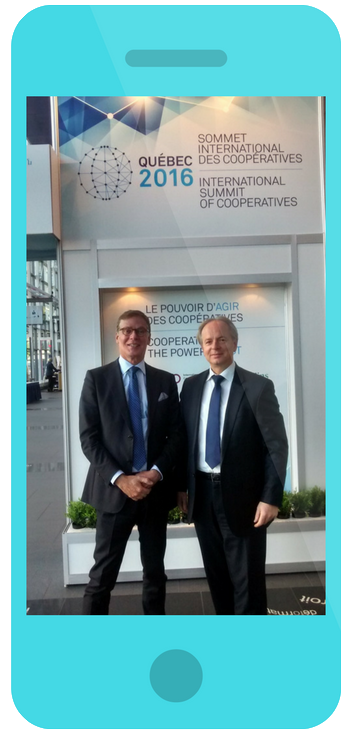 Pictures of the sectoral meeting available soon,
stay connected

!