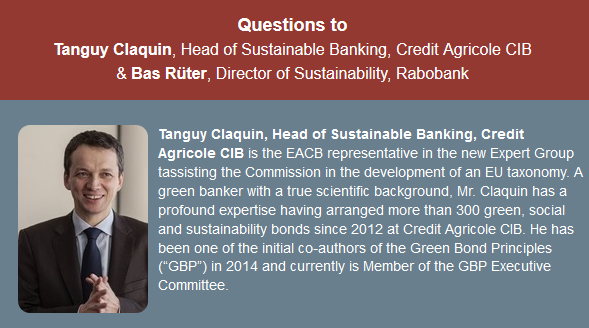 Dear Mr. Claquin you are Head of Sustainable Banking, Credit Agricole CIB and you represent the EACB in the technical expert group recently set up by the EU Commission on sustainable finance, what are your views on the work of this group? What do you perceive as priorities on Green Bonds and taxonomy?
There is an opportunity now in Europe to design common green finance standards. On the one side, Europe is the area when green finance is the most developed and can rely on a very diversified ecosystem of issuers, investors, arrangers, providers, etc., which – contrarily to what is usually thought – are relatively aligned on what they consider as being green, from a scientific and financial standpoint. This expert group will have to work on developing four items: an EU classification system to determine which activities are environmentally sustainable (the so-called taxonomy), an EU Green Bond Standard, benchmarks for low carbon investment strategies and a guidance to improve corporate disclosure of climate related information. All EU working group experts have a special focus on one topic, and I am more focused on the EU Green Bond Standard. For me, the most important point is that we need to be able to prioritise, i.e., to make choices. Almost all sectors and activities can claim they can be done with a sustainable approach, but we know that business as usual is not option if we want to mitigate climate change. The second most important is ambition: the proposition of this working group need to enable the Green Bond market to go further in terms of quality and quantity.
How do you see the role of co-operative banks in the field of sustainable finance? What specific approach can co-operative banks bring to the technical group?
I am convinced that that co-operative banks have a large legitimacy to be active in regulatory discussions on sustainable finance for a number of reasons. First, with their large retail networks, co-operative banks are well positioned to understand the nature of underlying assets and the constraints faced by individuals and SMEs. Co-operative banks have also, by nature, a long term horizon and naturally some of them, which are closed to farmers, understand naturally the financial importance of climate change. Second, members of the European Association of Co-operative Banks has always been at the forefront of the development of climate and environmental policies (e.g., Equator Principles, Green Bonds Principles). Last, from investment banks owned by co-operative banking groups have been active players in the field of green bond and green loans both as underwriters and as issuers. Co-operative banks can obviously add a lot expertise the technical expert group.

Dear Bas, you are the Director of Sustainability at Rabobank and you have been involved in the new Climate Agreement for the Netherlands, what are the main features and how is Rabobank involved?
The Dutch Climate Agreement is an agreement how to meet the Paris targets and is being negotiated between firms, NGO's and representative organisations operating in the main sectors of the Dutch economy, with substantial GHG emissions: the Energy sector, Industry, Transport, Buildings and Agriculture and Landuse. The Dutch government and representatives of regions are also involved. Negotiations have delivered an intermediate outcome on July 10th, and this has been presented to the Dutch Minister of Economic Affairs and Climate. In October/November debate will take place in Parliament and then negotiations will resume. We believe an important step forwards has been made, although it is fair to say the new measures are in several cases very complex to attain or yet untested. It will in any case be crucial to support front runners in the transition. We look forward to the next phase, were the agreement will be finalized.
The Netherlands have committed to a reduction of CO2 emissions by 49% in 2030 and by 95% in 2050. The Climate Agreement contains measures and targets to reduce GHG in each of the five industry sectors involved. Rabobank, focusing on two economic sectors, participates in the 'Agriculture and land use sector table' and the 'Urban areas sector table'. All Dutch banks will be involved in upcoming discussions how transitions should be financed, publicly and privately.
Some tough issues still have to be solved such as the allocation of the transition costs and the need for a level playing field, in the Netherlands and also in Europe. The total negative impact of the transition costs is estimated at 0.5% of Dutch GDP each year up to 2030. Some sectors and businesses however will be impacted more severely than others, which may damage the support for the Climate Agreement. This requires careful transition policies.
Another concern is the availability of skilled workers and technicians which are needed for the renovation of houses, the building of new infrastructure et cetera. This may drive up the transition costs. On the other hand, costs of using new technologies will drop when they are more widely adopted. A balance has to be found between the need for speed and the necessity to control costs.
Concerning the EU initiatives on sustainable finance, Rabobank is actively involved via the EACB, what are your views? What should be the priorities in designing the so called sustainable taxonomy?
We applaud the European proposals for sustainable finance and we are glad that banks are now more closely involved in drawing up the taxonomy for sustainable investments. Initially, this was too much limited to investors, insurers and asset managers. Bank financing is very important in Europe compared to market financing. Moreover, there is an interaction, think of the example of securitizing loans. It is undesirable if banks would apply different criteria for green credits than for green investments or for green deposits. We think it will be quite a challenge to establish a comprehensive taxonomy. Also, the availability of money must keep pace with the growth of green projects: the real challenge lies in the practical use of the resources. We must not create green bubbles. The risk assessment by bankers is extremely important to this end as well. Rabobank and all other European co-operative banks take on this role. In order to be implemented widely, the taxonomy should contain sufficiently open standards and must also be flexible. Finally, we believe that sufficient time must be taken for the implementation. This will take at least a year after finalization of the regulation. Systems have to be adapted and banks need time to advise customers and to renew products. But the direction of this change itself is excellent. Rabobank is fully committed to it.