On February 9, 2017, the Supervisory Board of Groupe BPCE convened a meeting chaired by Pierre Valentin to examine the Group's financial statements for the full year and 4th quarter of 2016. Those excellent results are showing the solidity of the Co-operative Banking modal !
Francois Pérol, Chairman of the Management Board of Groupe BPCE, said: "Our Group has published good results for 2016 with net income attributable to equity holders of the parent of €4bn, thereby confirming the strength of our fundamentals and the relevance of our full-service universal banking model. The business lines of Natixis put up a fine performance with the notable contribution of the Corporate & Investment Banking division and the further development of our insurance activities. In our retail banking division, the commercial dynamism of our networks – with new loan production in excess of €100bn in 2016 – has enabled us to limit the unfavorable impact of the low interest-rate environment on our revenues. Groupe BPCE will be presenting its plan for the transformation of its retail banking activities on February 21, in anticipation of its future strategic plan for 2018 – 2020."
For the full statement and more info about Groupe BPCE's results, please visit the dedicated WEBPAGE of their website.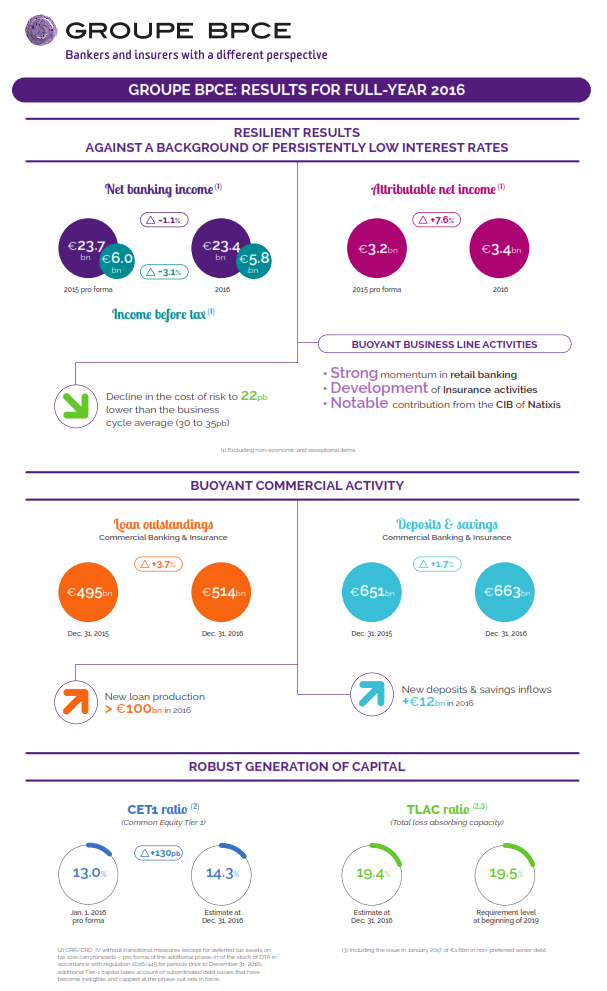 Find the EACB KEY FIGURES for co-operative banks 2015 > HERE