Brussels, 15th November 2018 – The EACB is pleased to announce the launch of a new publication entitled "European co-operative banks in 2017: a concise assessment" by Tilburg University. The publication reviews developments in the overall performance of 18 co-operative banking groups in 13 European countries based on consolidated financial indicators pertaining to 2017.
The main objective of the report is to disseminate and analyse facts and figures of European co-operative banking groups objectively. This is highly important, especially in light of present economic and financial perspectives, structural developments in banking and eminent changes in banking supervision and regulation. The document also compares the performance metrics of co-operative banks to that of all other banks in recent years. Based on standard bank performance metrics, it can be objectively concluded that economic and financial developments impact differently on co-operative banks compared to banks with other organisational forms. These findings can be mainly ascribed to their member-based governance. If business models and orientations of banks vary, they are not hit in the same way and to the same extent by all types of distortions. From this reasoning, it follows that regulators should encourage diversity and promote banks oriented to support SMEs and households at the domestic level.
Tilburg University Report's highlights:
• The long term trend of an expanding member base continued in 2017: co-operative banks welcomed

0.9 million new members

. Nowadays, almost

one out of five inhabitants is a member of a co-operative bank in Europe

. Hence, they play an important role in the financial sector and modern society.

•

2017 figures point to a strengthened market position

, an healthy financial performance and solid capitalisation of co-operative banks.
•

The return on equity of co-operative banks rose by 1.2 percentage point to 6.6 in 2017

, whereas this ratio increased by 2 percentage points to 6.3 for all other banks. The tier 1 ratio surged by 0.6 percentage point to a solid 16 per cent.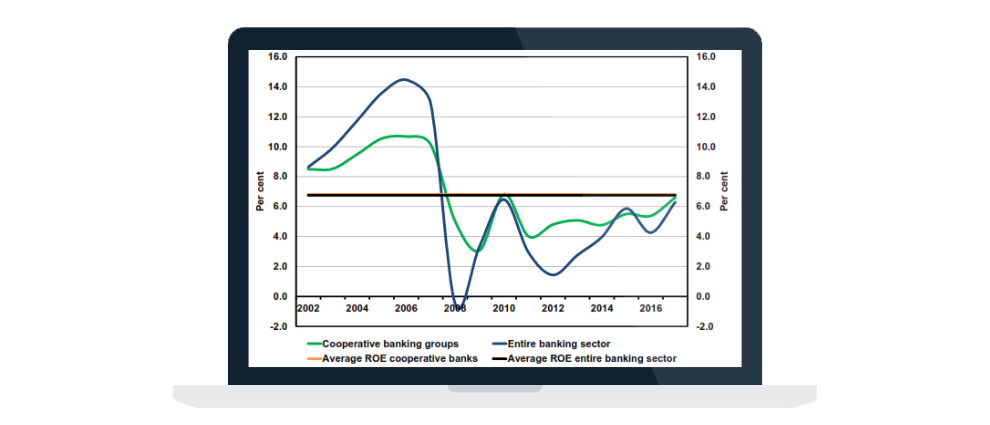 •

The dispersion between loan and deposit growth of co-operative banks and the entire banking system widened in 2017

. Co-operative banks expanded their loan portfolio by 3.4%, while the outstanding loan volume of other banks contracted a little bit (-0.2%). Credit expansion by co-operative banks has continuously outpaced loan growth of all other banks in the last six years.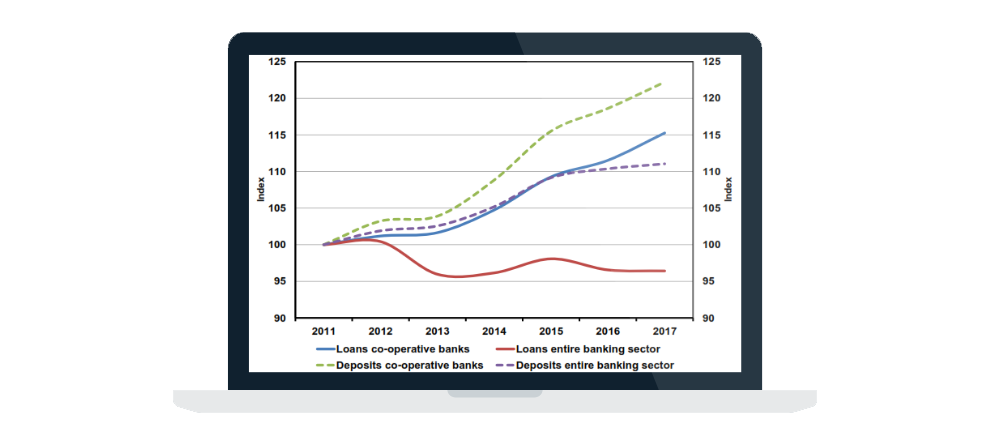 The Tilburg University publication highlights unique features of co-operative banks that set them apart from other banks and provide promising opportunities. Their

business model is objectively more geared towards the real economy

and the volatility of their returns is less pronounced. Hence, C

o-operative banks will continue to contribute to the indispensable diversity and stability in banking

.